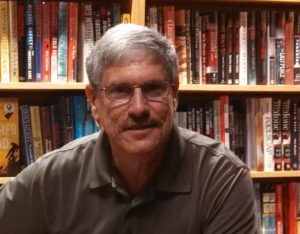 Howard Gershkowitz lives in Chandler, AZ, and has been both a science fiction fan and history buff most of his life. He writes both poetry and fiction, and has won several awards for his work, including First Prize in the 2018 Tempe Creative Writing contest for his poem, 'Window on the Square,' judged by ASU faculty and students. His work appears in various publications, including The Avocet, the Blue Guitar, and The Offbeat (Michigan State University's quarterly publication.).
3 sample scenes for your enjoyment…
Excerpt from Chapter 1
She lifted the shiny handset. "Hassayampa Inn, how may I help you. One moment while I connect you."
With her free hand, she grabbed one of the many twisted wires. Tracing the second line of small, round holes, each marked with a room number, she plugged it into "1016" and waited. Apparently satisfied with a completed connection, she returned the handset to its cradle.
"She's really good, isn't she?" I said.
Laura didn't bother looking up. "Who is?"
I nodded toward the woman operating the phones. "The girl at the switchboard over there."
Laura lifted her nose out of the sports section and looked around, eyes furrowed. "I don't see anyone."
"Her—right there—the girl in the red-checkered dress." I pointed at her.
Laura looked at the switchboard, back at me, then at the switchboard again.
"Who?" Laura asked again, hands up in the air in frustration.
"Her—right there—are you blind? You're staring right at her."
"Are you hallucinating? There's no one sitting at that dusty old fly-trap. There isn't even a chair or bench in front of the damn thing."
Exasperated, I got up, walked over, and tapped the young woman on the shoulder.
"Excuse me for interrupting, but would you please say hello, or at least wave, to my wife over there?"
She looked up and flashed a smile full of perfect teeth and compassion. Swiveling on her stool, she waved at Laura. then turned back at the jingle of another incoming call.
"There. Are you satisfied?"
"Have you lost your mind? There's no one there. What are you trying to pull?"
I looked back at the console. "Miss, would you please…"
But there was no one there. No stool, no checkered dress, no young woman with penetrating eyes playing hopscotch with the wires. Only an old, dingy switchboard, which hadn't been dusted in weeks, or used in decade.
Excerpt from Chapter 7
When the shouting and applause subsided, Martin Luther King took charge of the podium and the day.
"I have a dream…"
The words echoed around us, the jubilant response abundant and sincere. Listening as if for the first time, I experienced in real time a drama I could only have imagined from grainy black-and-white videos of a once-distant past.
"I have a dream…"
Mississippi, Alabama, and a nation still mired in discrimination being chastised by a masterful leader. It began on a quiet morning with a brave woman, Rosa Parks, refusing to give up her seat on a bus as the law required, and burgeoning into a Ghandi-inspired civil disobedience movement.
"I have a dream…"
If only he could have seen the results. I looked at Talia and tears streamed freely down her cheeks. I put my arm around her shoulder and she leaned into me.
"Free at last, free at last, I thank God I'm free at last."
Excerpt 3 from Chapter 13
"Mr. Medina?" I asked as he approached.
"You Russell?"
"At your service."
"Call me Tazo. So, what's this project you have for me?"
"Have you ever heard of Simon Eckstein, or, Ergonometrics?"
"Can't say I have. I don't read much science fiction."
"It's an economics theory, meant to shore up our lagging economy."
"Like I said. I don't read science fiction. What's this got to do with me?"
"I was hoping you'd be willing to help me make some contacts in Washington, get legislation drafted to implement his ideas."
"And, what makes you think I can help you? I'm not even interested in this sort of thing."
"I don't need you to be interested in it. I need your help in get me in front of the right people."
"And, for these introductions, you're prepared to pay my price?"
"If the congressmen you introduce me to are in positions to move my cause along, yes. I suppose I should ask what your fee is."
"How much are you willing to commit to this wild goose chase of yours?"
"I have a war chest of several hundred million dollars at my disposal," I said, not ready to use the "B" word yet.
"That's good, because you'll need it. My fee is $10 million, half up front, the rest when the meetings have been arranged. Travel and expenses are extra, and I travel first class, understood?"
"Understood. What do you mean, 'I'll need it?'"
"Aside from my fee, each senator and representative you meet will expect a sizeable campaign contribution. In addition, they likely will need certain… additional monetary incentives."
"Meaning?"
"Can you spell bribe?"
Howard Gershkowitz – Chandler, AZ – gershwriter@cox.net
The Operator
All Things That Matter, Publisher
263 pages
Publication Date: October 2018
Suggested Retail Price: Print Edition, $16.99; Kindle edition $5.99
Author: Howard Gershkowitz
ISBN: 978-173272374-0
Available from Amazon.com in both print and kindle editions or by contacting the author directly.